RUN TO THE ENDS OF THE EARTH
Get solar charging that provides extra-long GPS battery life to help you outlast your next ultra race, plus power-saving positional accuracy and built-in mapping to help you find your way.
Solar power provides best-in-class battery life for the longest races.
Keep going for up to 150 hours of battery life in GPS mode with solar charging1.
SatIQ™ technology maximizes battery life without compromising the positional accuracy you need.
Know where to go with TopoActive maps and NextFork™ map guide.
A superbright LED flashlight helps you keep an eye on your surroundings.
Grade-adjusted performance metrics help you take your training to the next level.
SOLAR CHARGED BATTERY
Get up to 34 days of battery life in smartwatch mode — with an additional 12 days when solar charging2 — for an uninterrupted picture of your health and fitness, and up to 150 hours in GPS mode with solar charging1 to track your performance in training and races.
BUILT FOR EXTREMES
The rugged, sophisticated and lightweight design features a large 1.4" solar charged display and 51 mm case with sapphire lens. The UltraFit band provides long distance comfort – even in punishing conditions.
TOUCHSCREEN AND BUTTONS
Traditional button controls that work in any environment are matched with a responsive new touchscreen interface for quick access to selections and functions.
Train smarter. Go farther.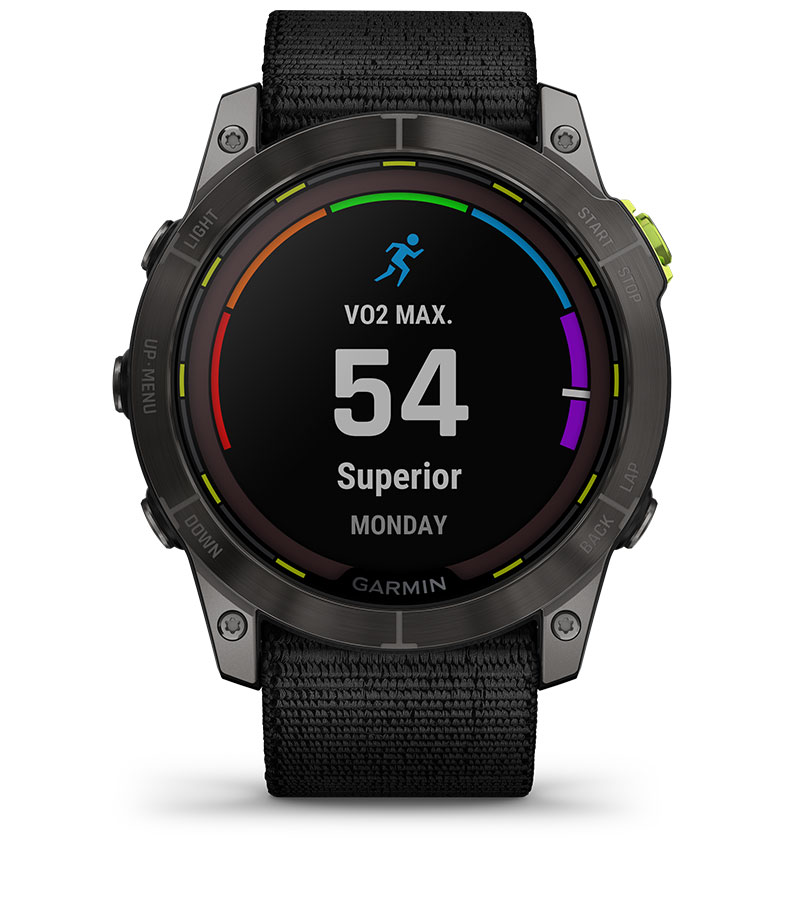 TRAIL RUN VO2 MAX
Trail run VO2 max estimates the cardiovascular fitness level of trail runners by adjusting based on the varying trail and terrain conditions that can affect run performance.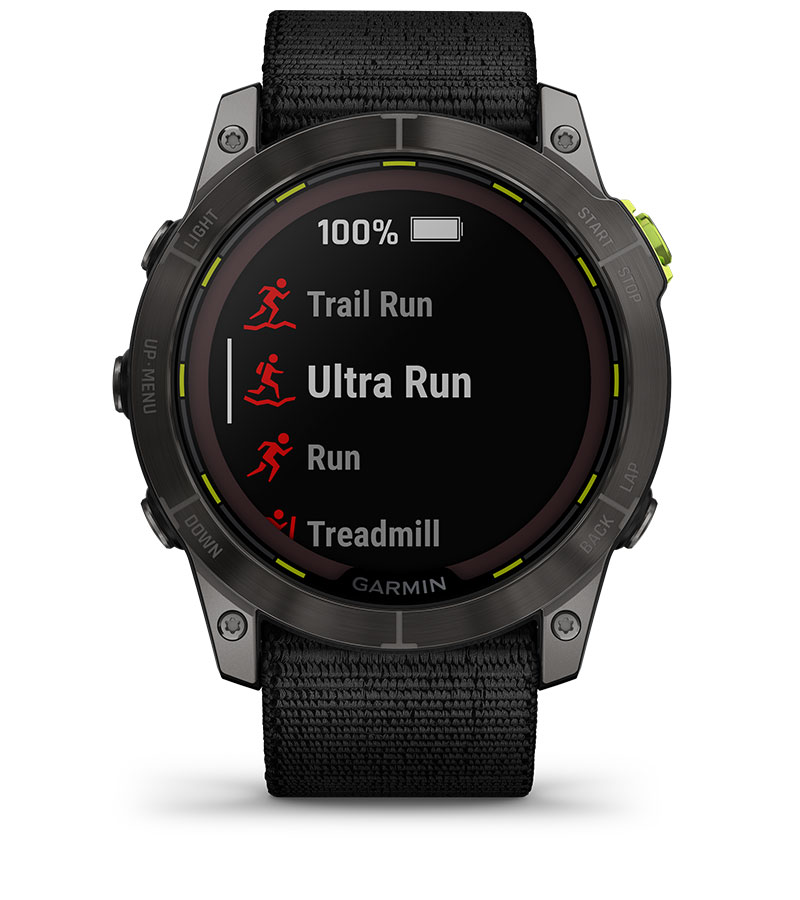 ULTRARUN ACTIVITY
Use the ultrarun activity with rest timer, and log the time you spend at aid stations.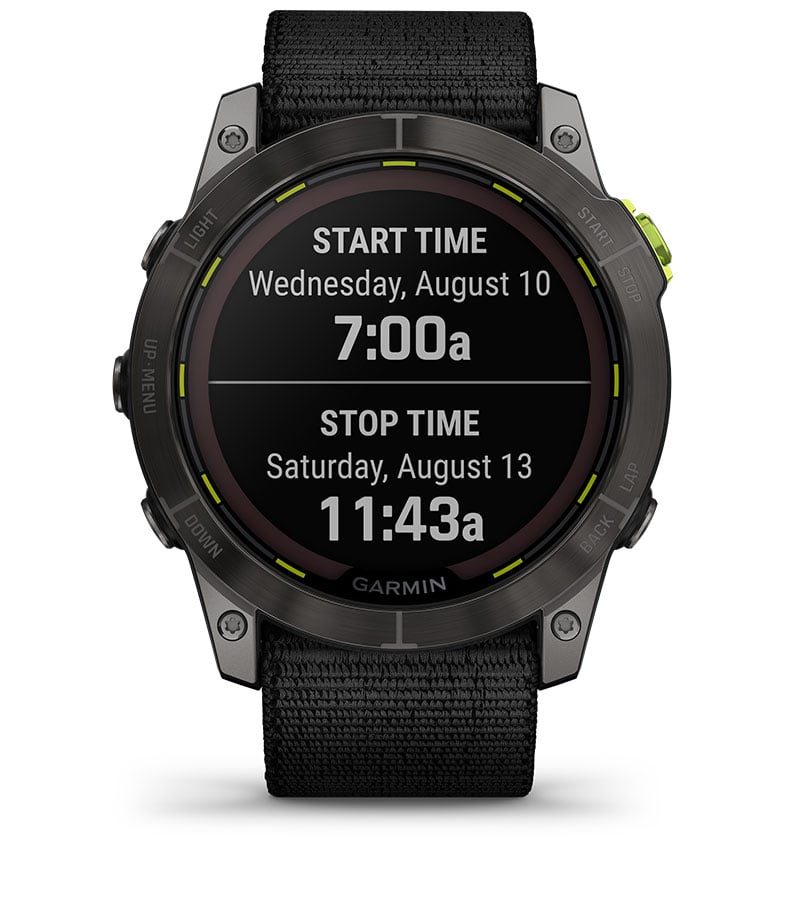 ADVENTURE RACING APP
This activity profile allows you to see heart rate, elevation, segment times and other metrics when the race is on. It records GPS in this mode but is unavailable for viewing, in keeping with adventure race rules. A summary screen even helps verify your finish time with the race committee.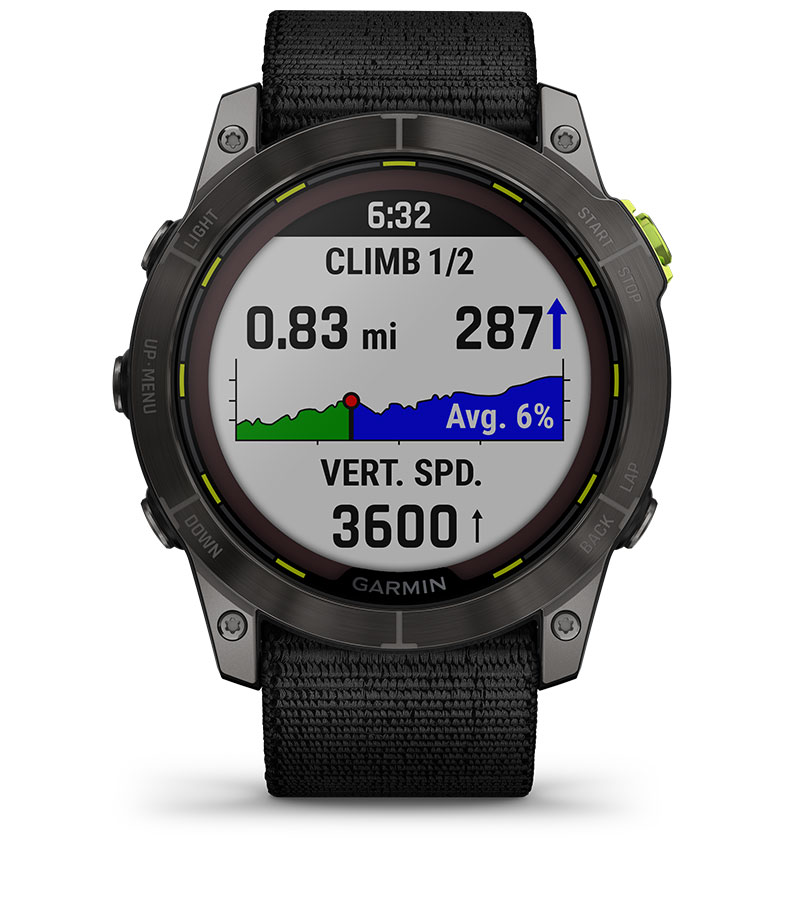 CLIMBPRO FEATURE
Use the ClimbPro ascent planner on downloaded courses to see real-time information on your current and upcoming climbs, including gradient, distance and elevation gain — as well as descents and flats.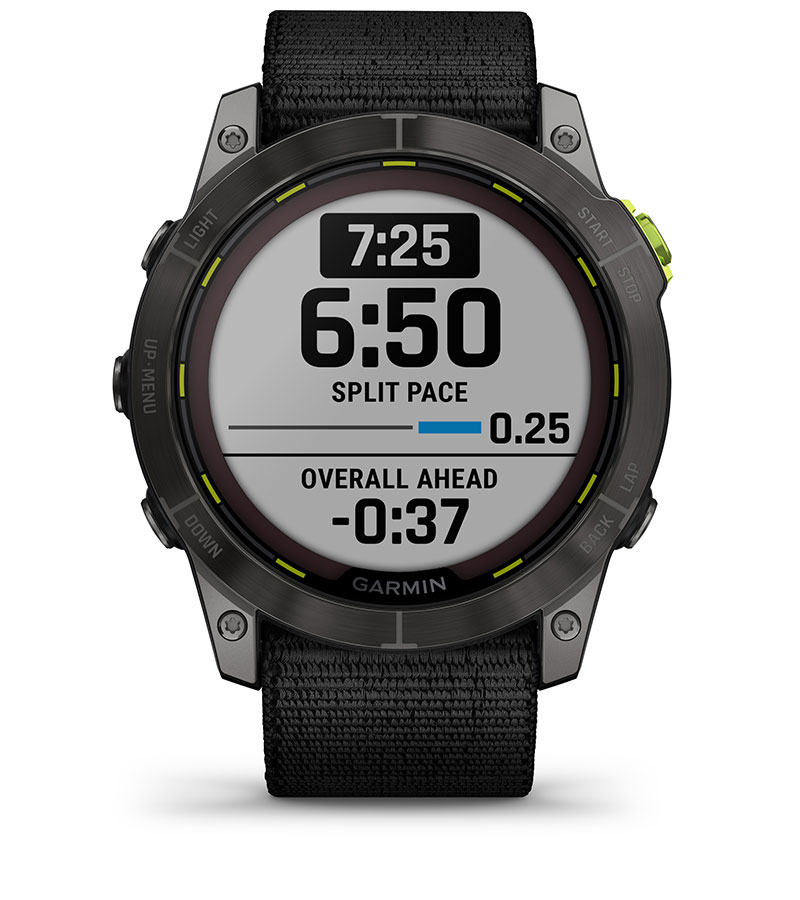 PACEPRO™ TECHNOLOGY
A first-of-its-kind PacePro feature helps keep you on pace with grade-adjusted guidance as you run a course.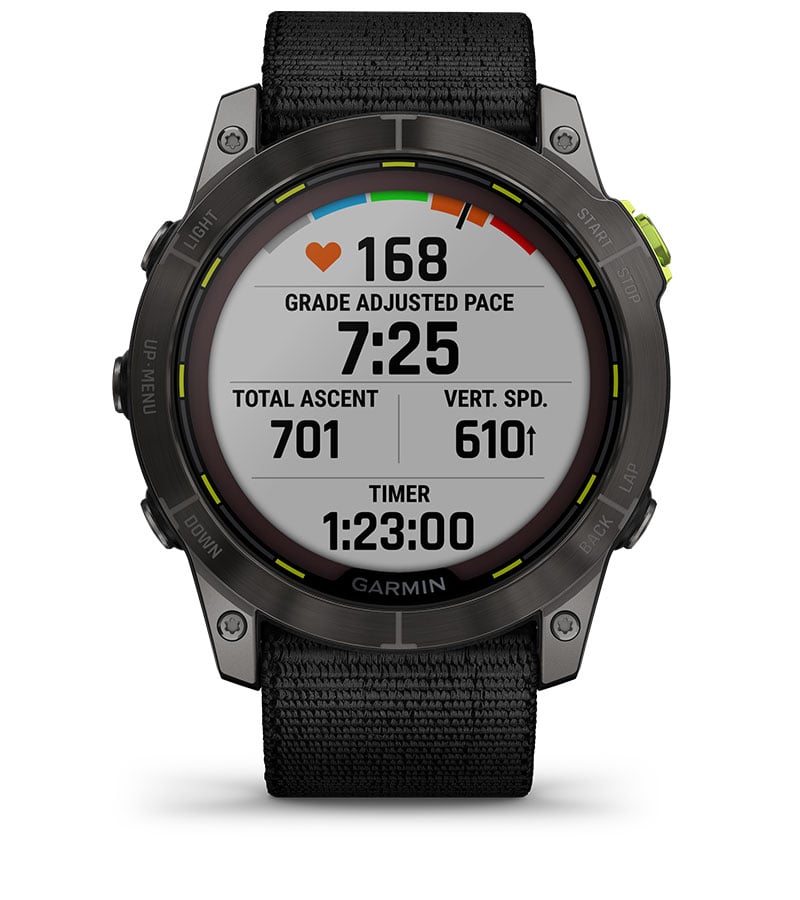 GRADE-ADJUSTED PACE
Don't run out of steam before the activity is over. Understand how to adjust your pace over varying terrain to perform according to your plan.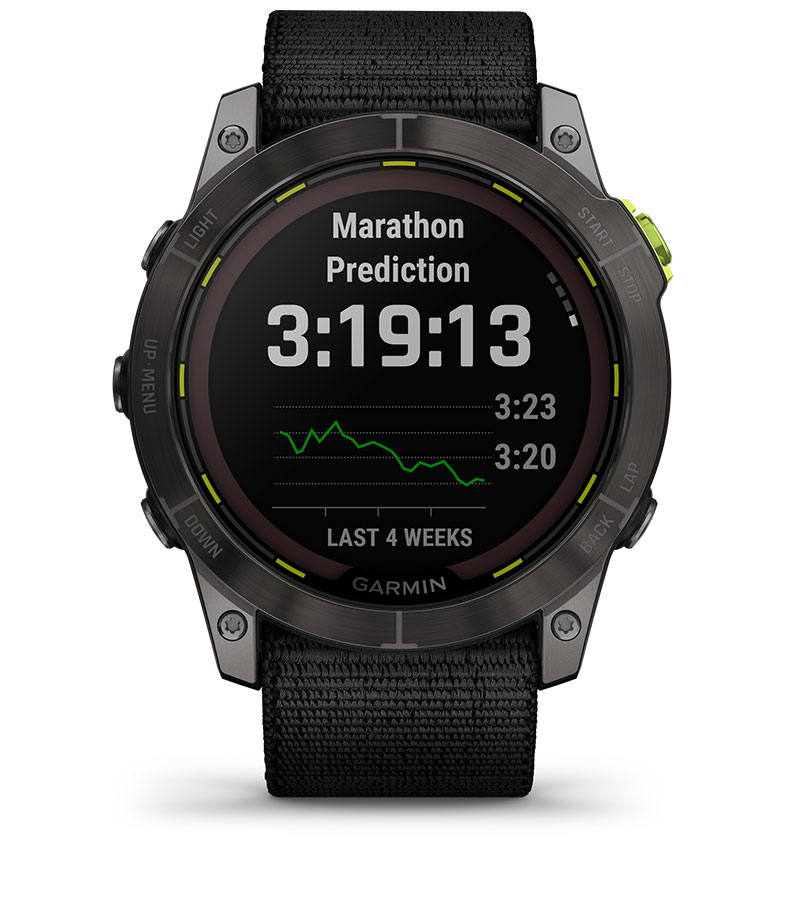 VISUAL RACE PREDICTOR
Based on your running history and overall fitness level, this feature provides an estimate of what your pace could be for the distance you want to run. Trend data shows how your training is having an impact over time.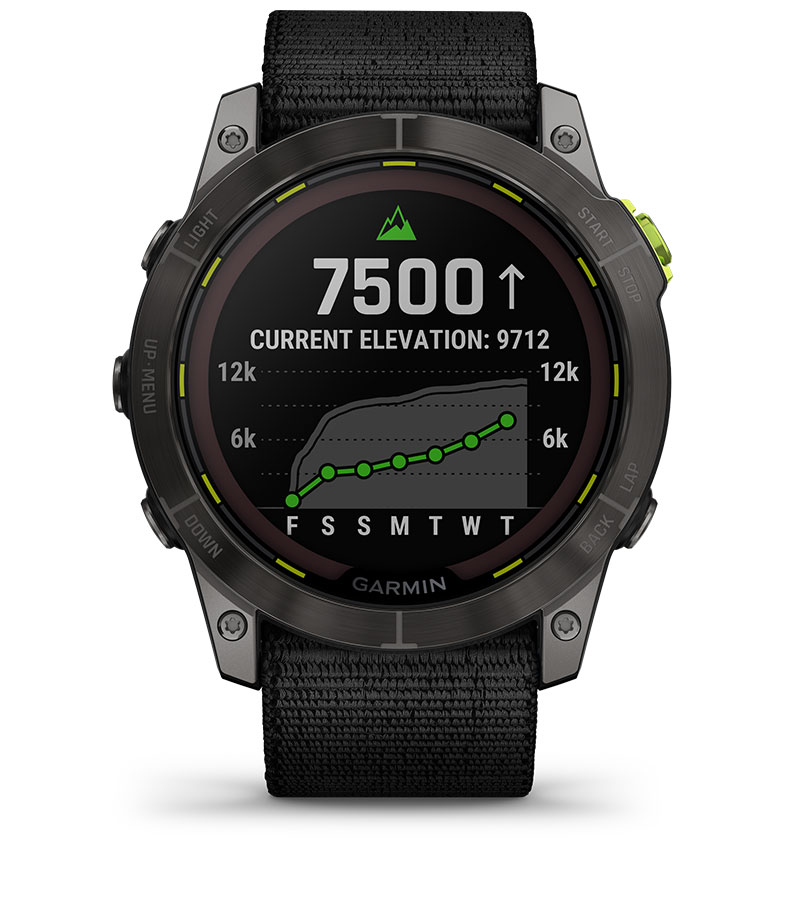 HEAT AND ALTITUDE ACCLIMATION
Prepare yourself for any environment. When paired with your compatible smartphone, see how your body is holding up in different environments with heat and altitude acclimation.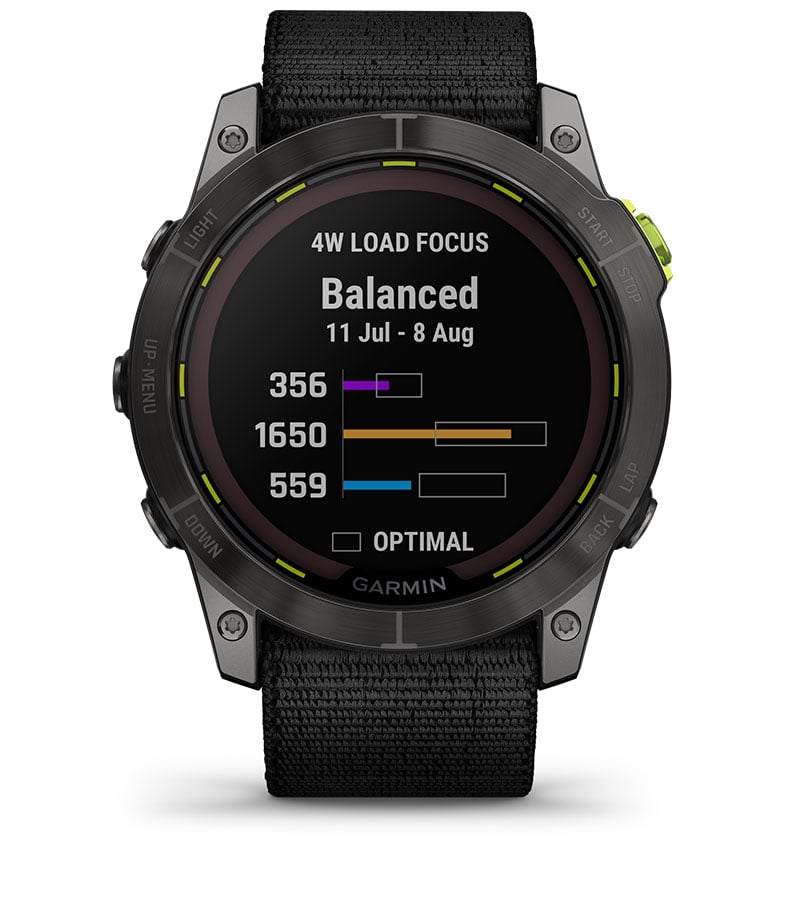 PERFORMANCE METRICS
View advanced training metrics that include running dynamics, heat- and altitude-adjusted VO2 max, trail running adjustment, recovery advisor and more.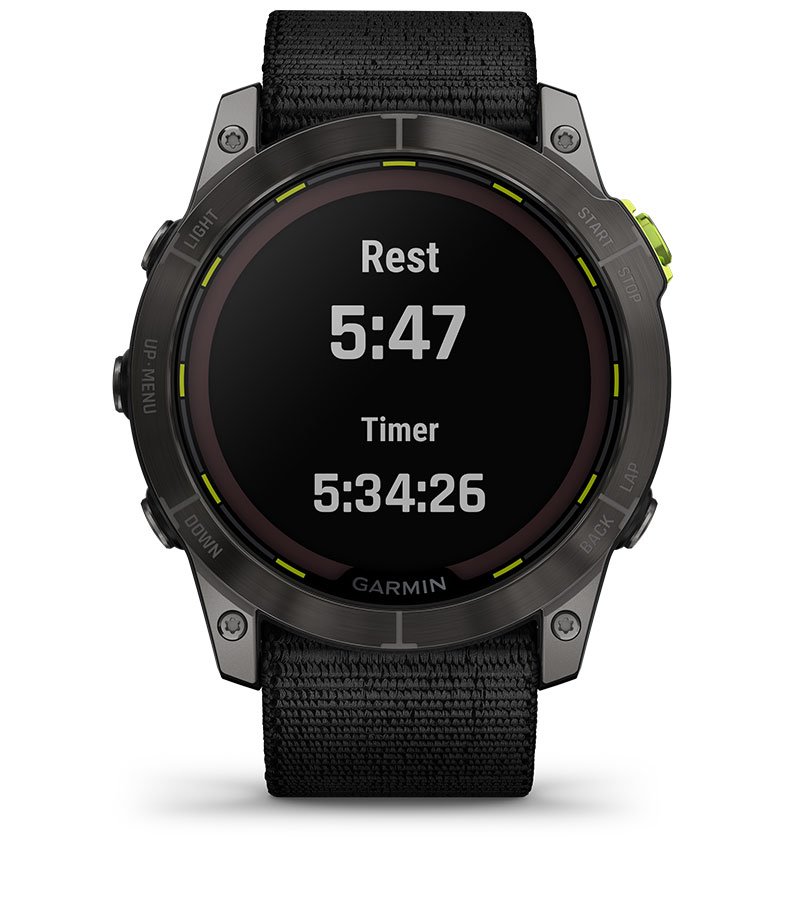 AUTOMATIC REST TIMER
During an ultrarun activity your watch automatically keeps track of time spent at an aid station or checkpoint — so you don't need to worry about pausing your run.
More ways to make you stronger.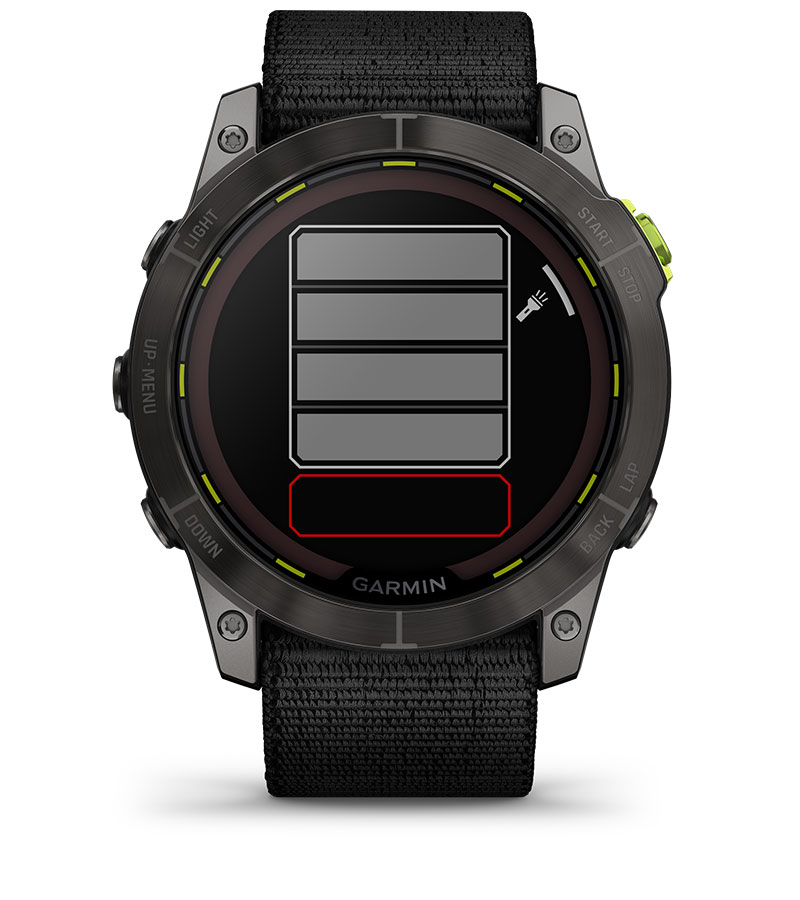 SUPER BRIGHT FLASHLIGHT
To help guide your way in low-light conditions, a built-in superbright multi-LED flashlight (twice as bright as the fēnix® 7X multisport GPS watch) provides quick access to a bright, steady beam in either red or white light.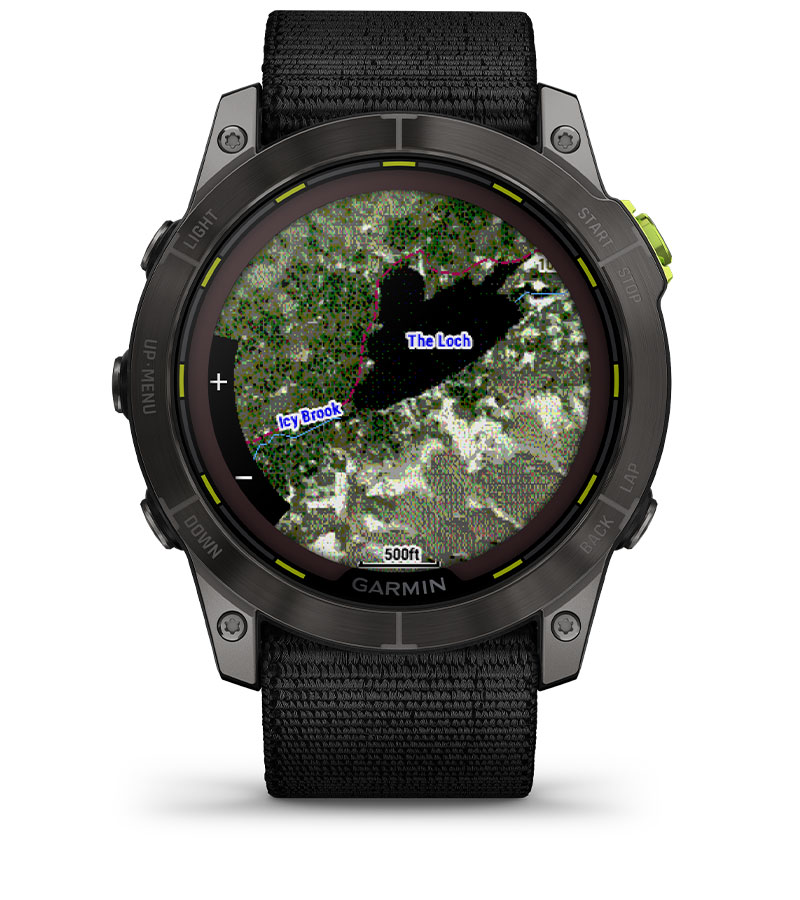 OUTDOOR MAPS+
Subscribe to Outdoor Maps+ for premium mapping content, such as satellite imagery and enhanced topo maps, downloaded directly to your watch.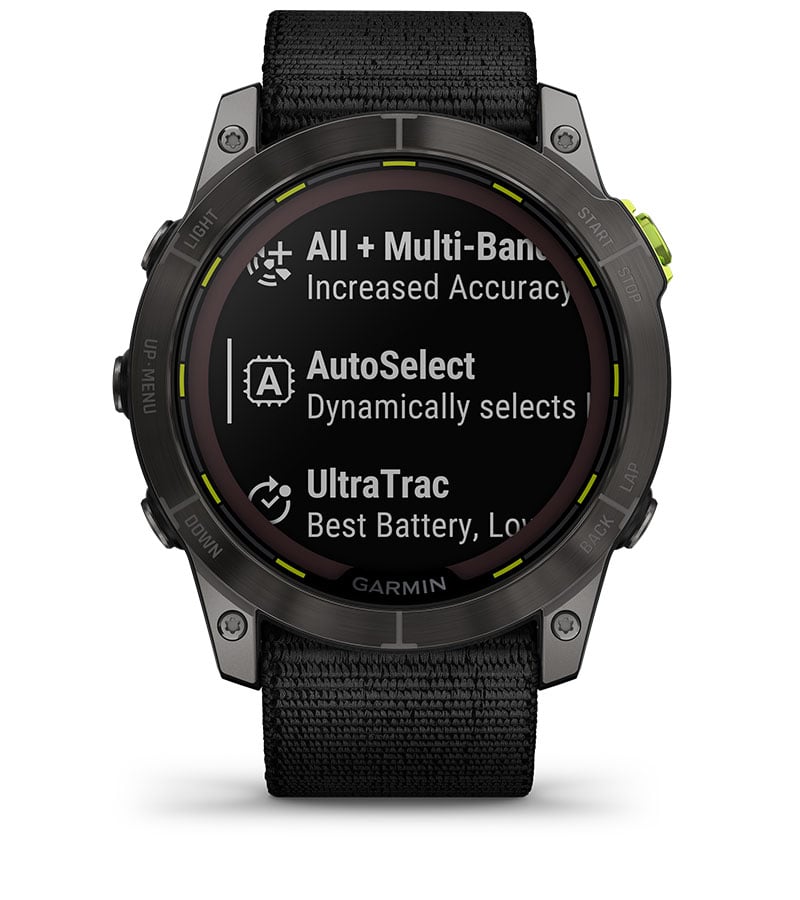 SATIQ™ TECHNOLOGY
Multi-band GNSS with SatIQ technology ensures the best positioning accuracy in any environment while also optimizing the device's battery life.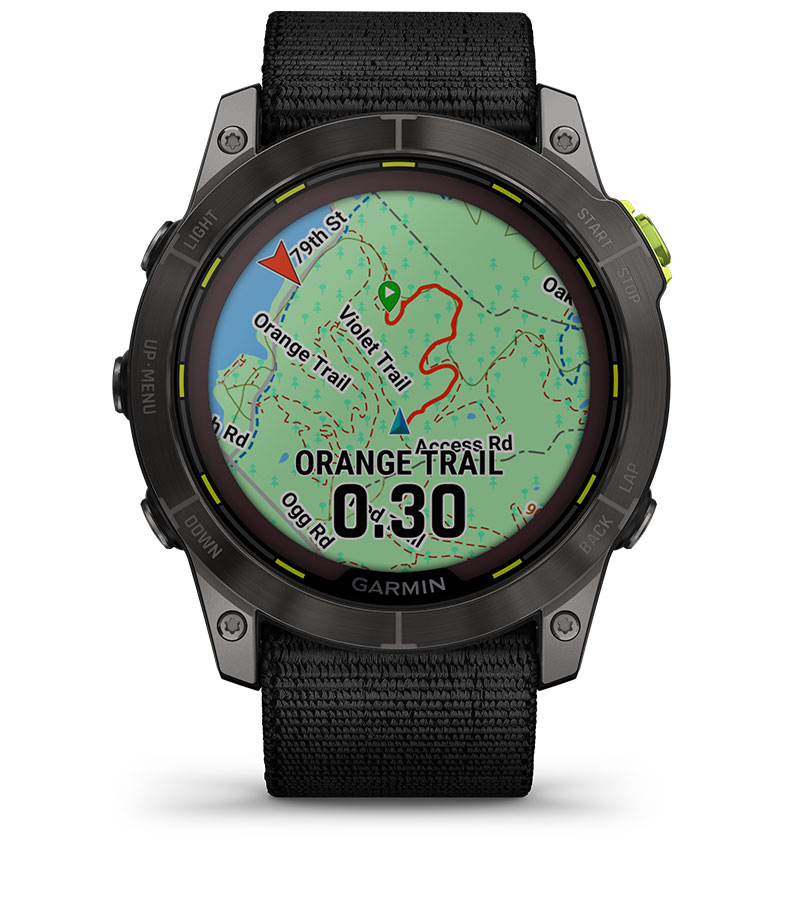 NEXTFORK™ MAP GUIDE
Easily navigate while you're out on the trail with a quick glance. See the distance to the next trail intersection as well as the name of the upcoming trail.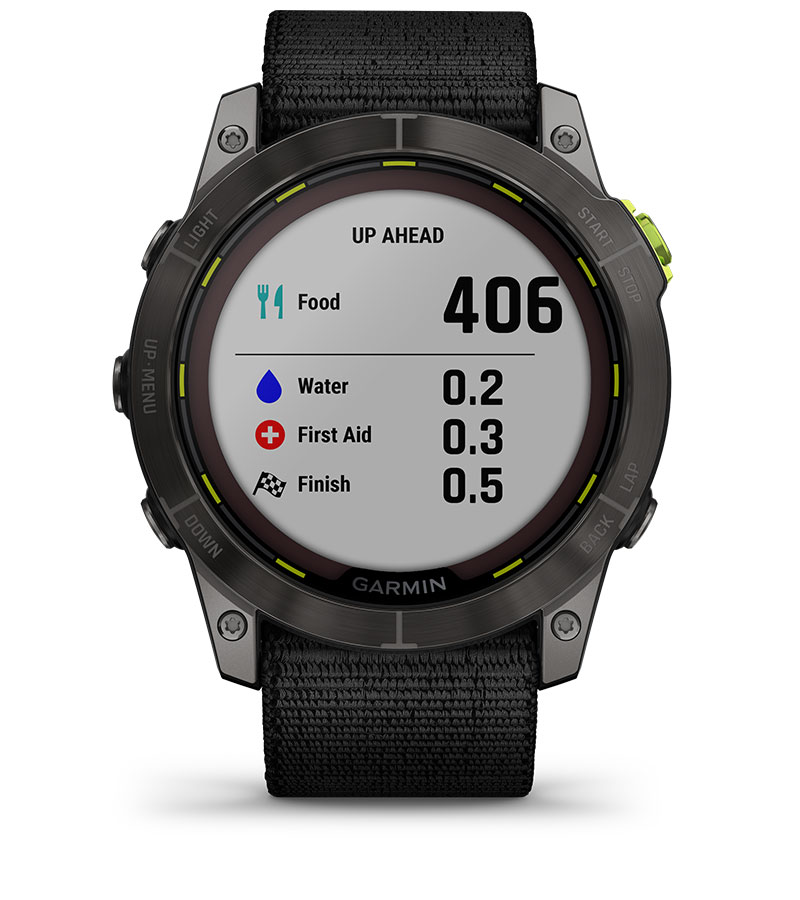 UP AHEAD
Get at-a-glance awareness for selected POI checkpoints ahead. View performance metrics, split times and distance/elevation — plus a summary of key trail points coming up.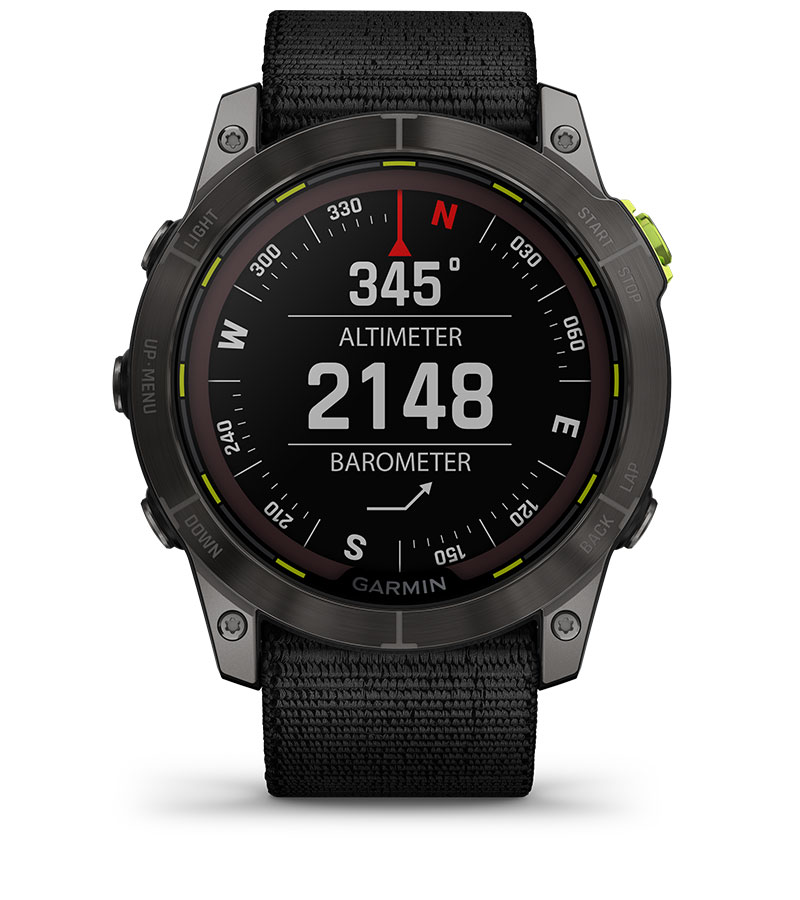 ABC SENSORS
Navigate your next trail with ABC sensors, including an altimeter for elevation data, barometer to monitor weather and 3-axis electronic compass.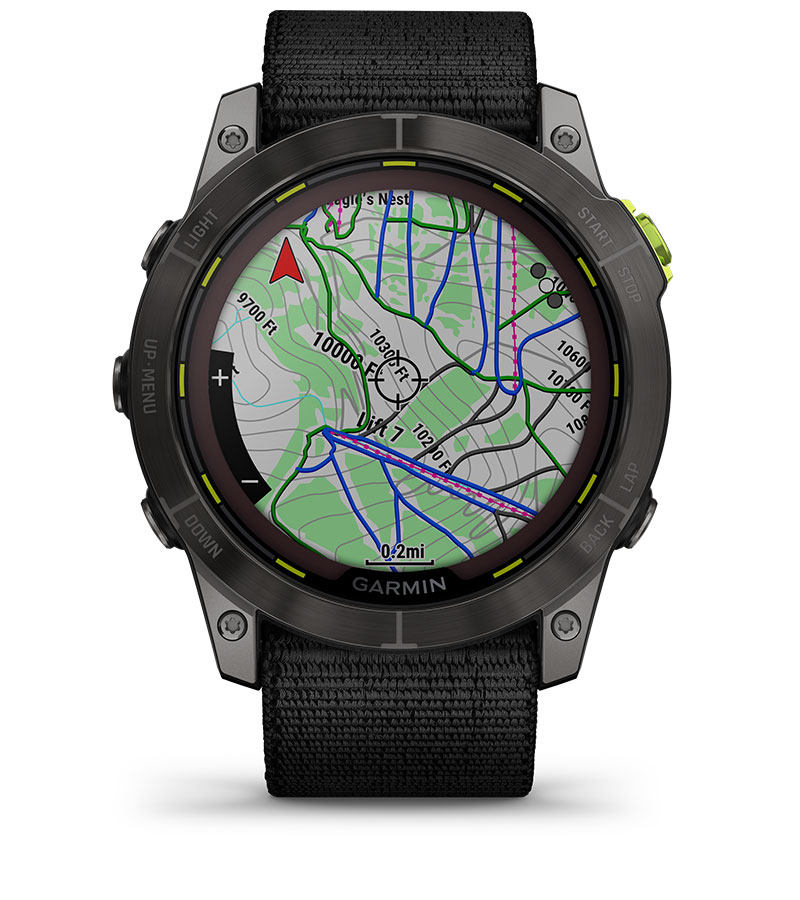 SKIVIEW™ MAPS
Take on the slopes with preloaded SkiView maps, and view run names and difficulty ratings for more than 2,000 ski resorts worldwide.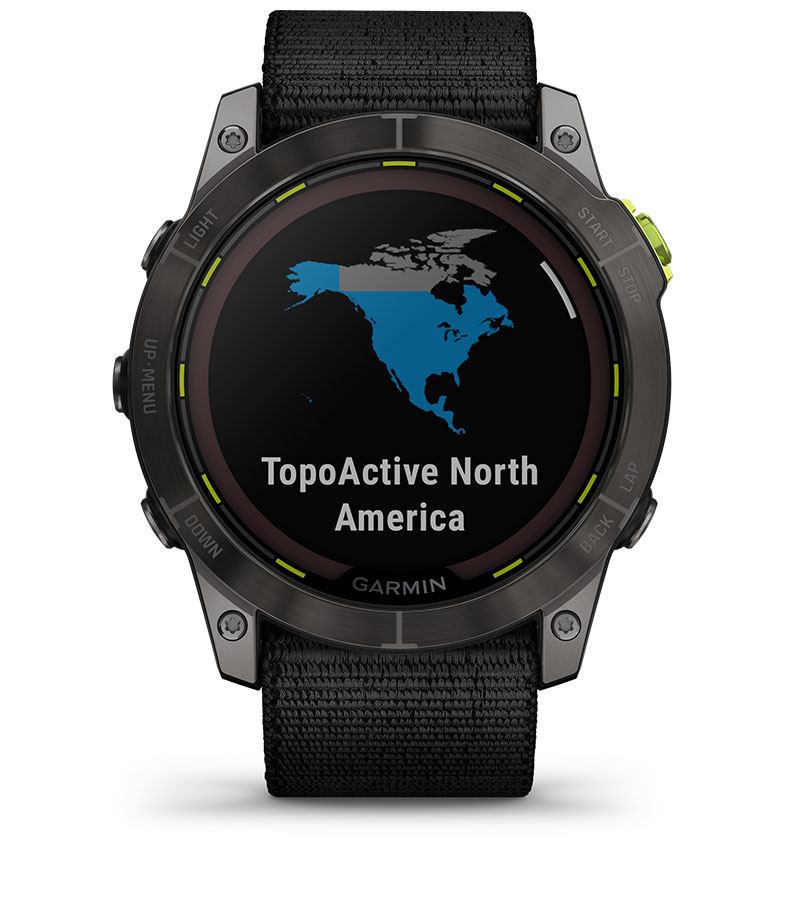 MULTICONTINENT TOPO MAPS
Preloaded TopoActive maps from around the world keep your explorations on track. Use built-in Wi-Fi® connectivity to easily load and update maps and software without using a computer.
Monitor your body. Maintain your edge.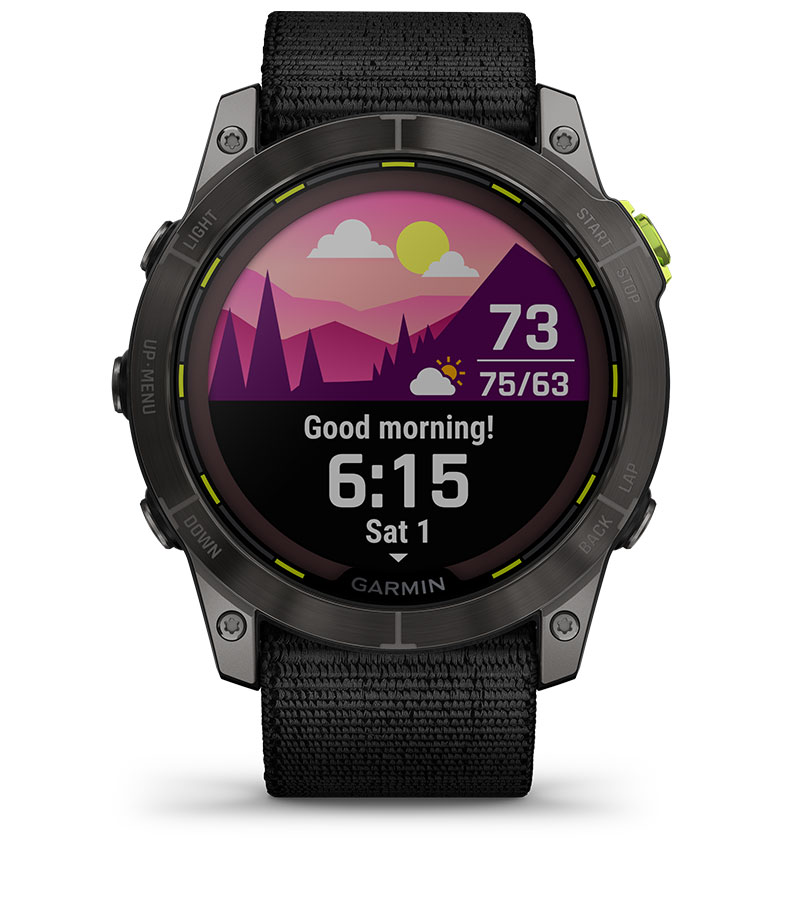 MORNING REPORT
Receive an overview of your sleep, recovery and training outlook as soon as you wake up — alongside HRV status, training readiness and weather. You can even customize your report to show what you want to see.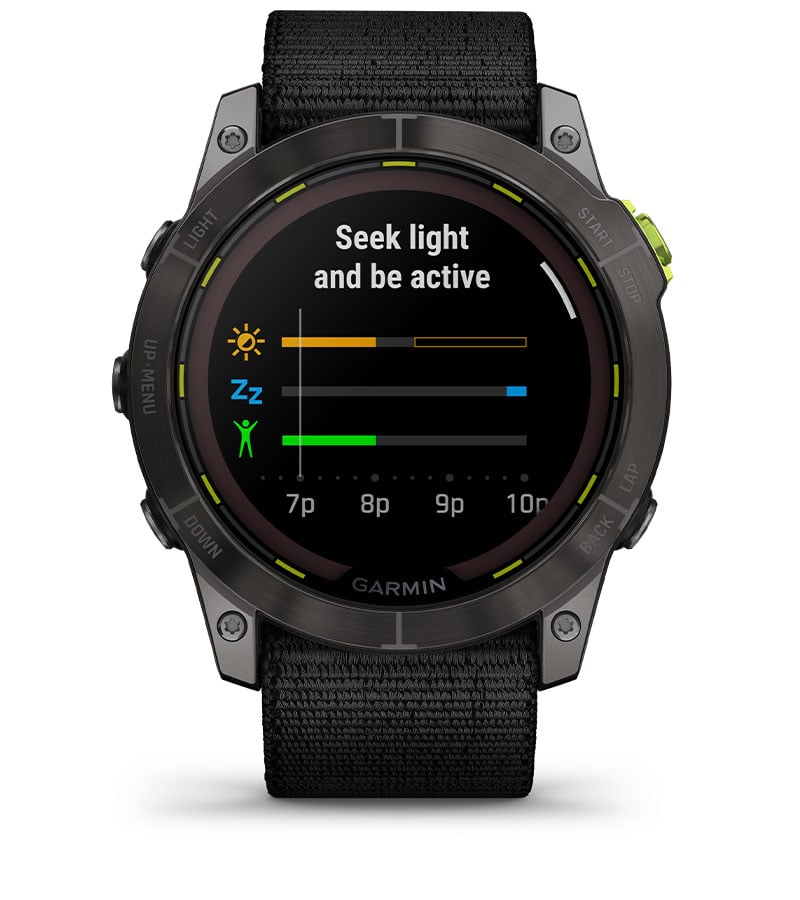 JET LAG ADVISER
Help minimize the effects of jet lag with guidance on light exposure, sleep schedule and exercise on your next long-distance trip. Enter your travel details in the Garmin Connect™ smartphone app calendar, and track how your body clock is adjusting to your new destination.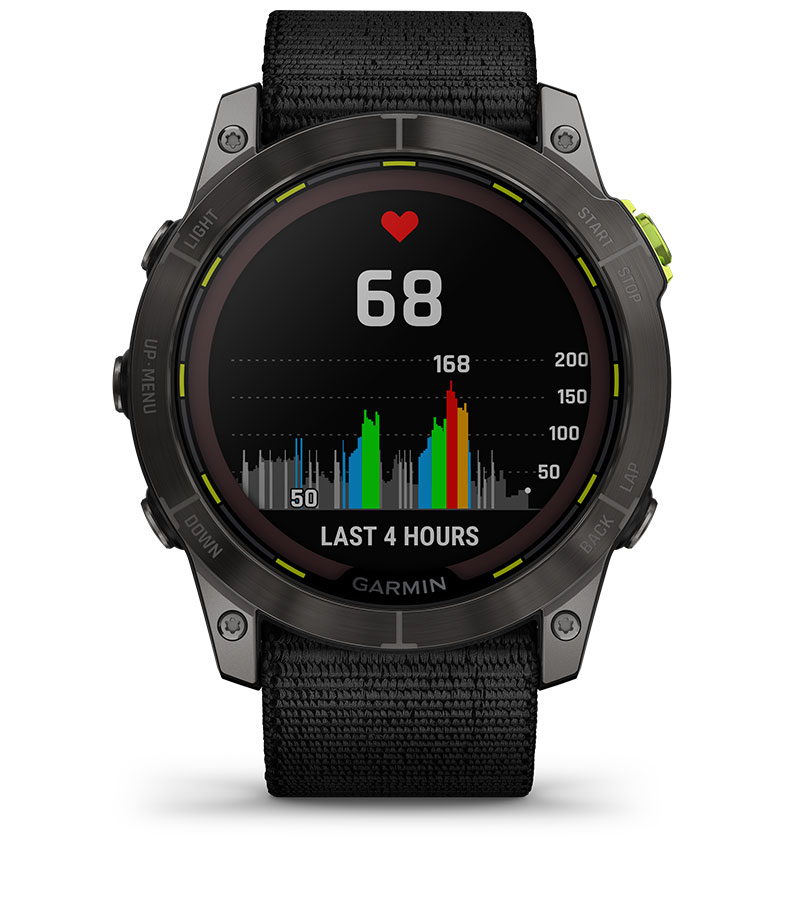 WRIST-BASED HEART RATE
Optical heart rate technology4 gauges activity intensity as well as heart rate variability to calculate your stress level. It also tracks underwater without a heart rate strap.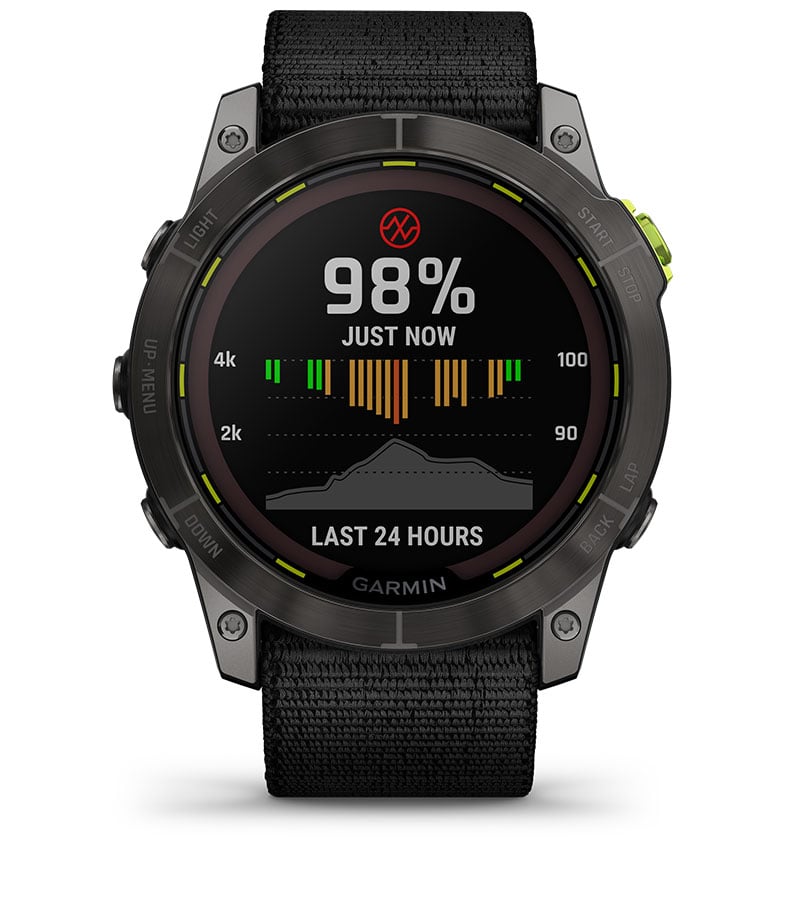 PULSE OX SENSOR
For altitude acclimation or sleep monitoring, a Pulse Ox sensor5 uses light beams at your wrist to gauge how well your body is absorbing oxygen.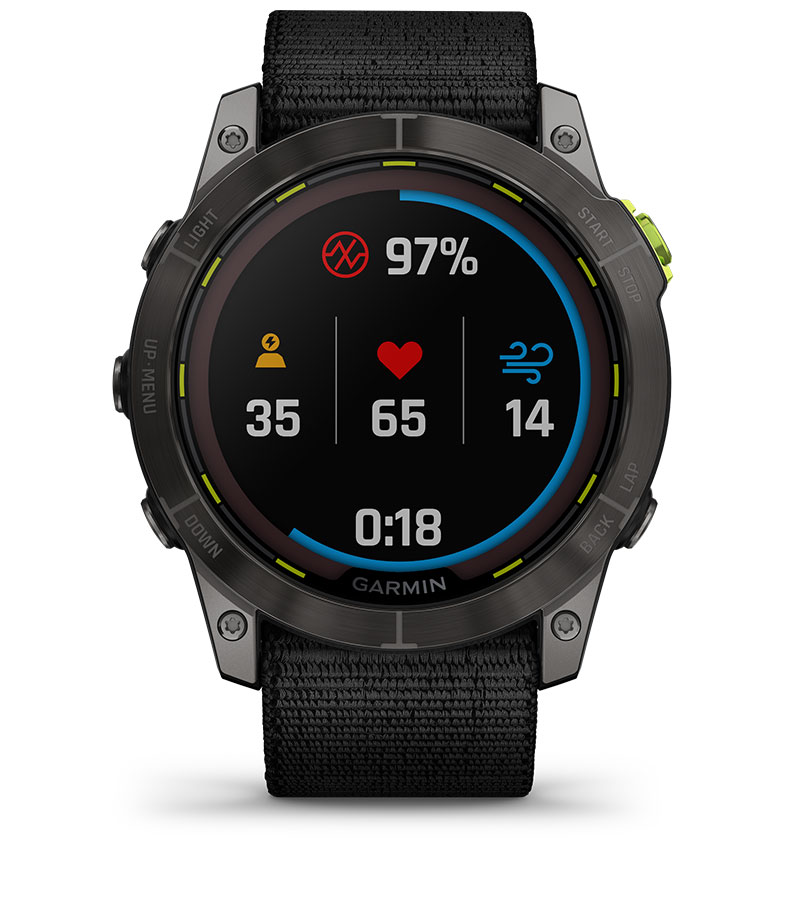 HEALTH SNAPSHOT™ FEATURE
Log a 2-minute session to record key stats, including heart rate, heart rate variability, Pulse Ox, respiration and stress. Then generate a report with those stats to share via the Garmin Connect™ app on your compatible smartphone.
BODY BATTERY™ ENERGY MONITORING
Optimize your body's energy reserves, using heart rate variability, stress, sleep and other data to gauge when you're ready to be active or when you may need to rest.
SLEEP SCORE AND ADVANCED SLEEP MONITORING
Get a full breakdown of your light, deep and REM sleep stages. View it all on a dedicated widget that includes your sleep score and insights.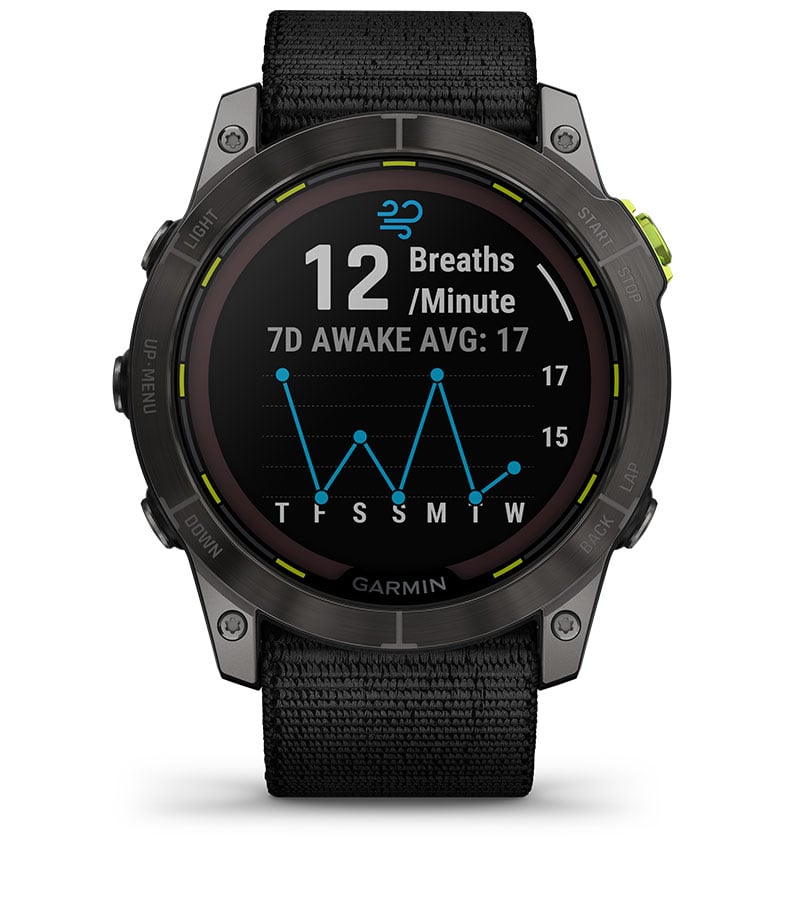 RESPIRATION TRACKING
See how you're breathing throughout the day, during sleep and during breathwork and yoga activities.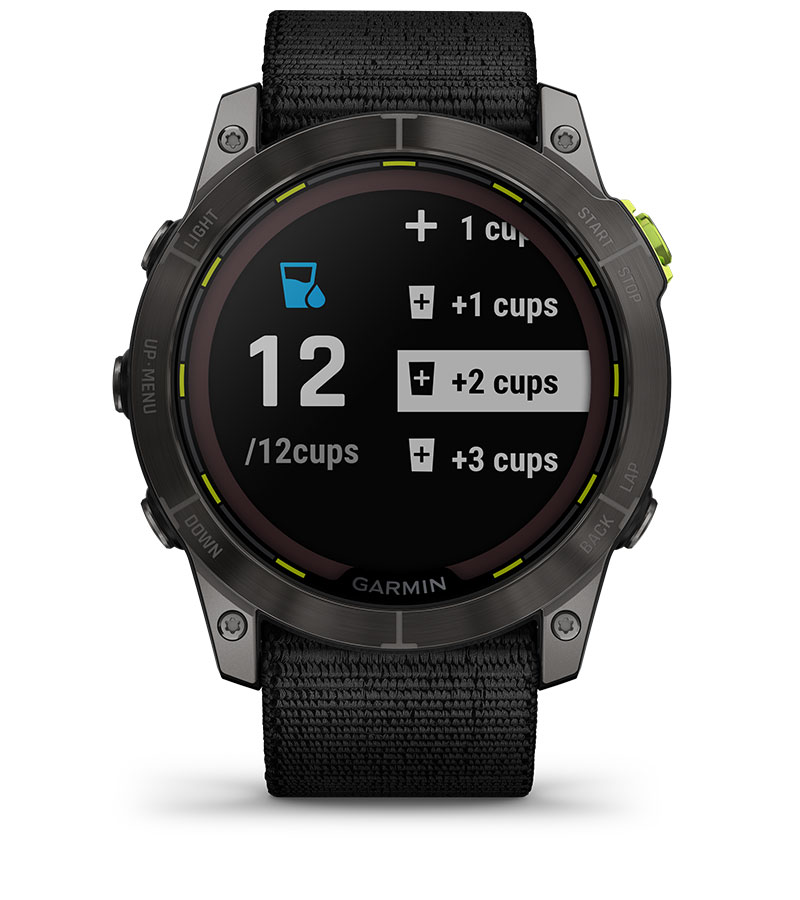 HYDRATION TRACKING
Log daily fluid intake as a reminder to stay hydrated. When auto goal is enabled, you'll even see estimated sweat loss after an activity, and your goal will adjust accordingly.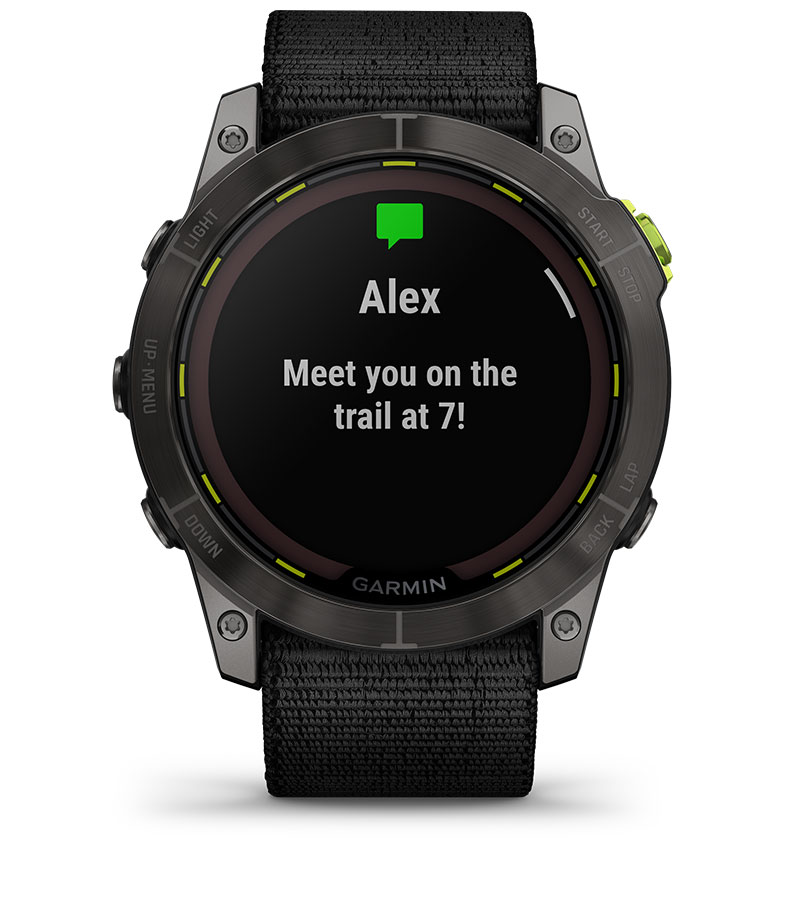 SMART NOTIFICATIONS
Receive emails, texts and alerts right on your watch when paired with your compatible device.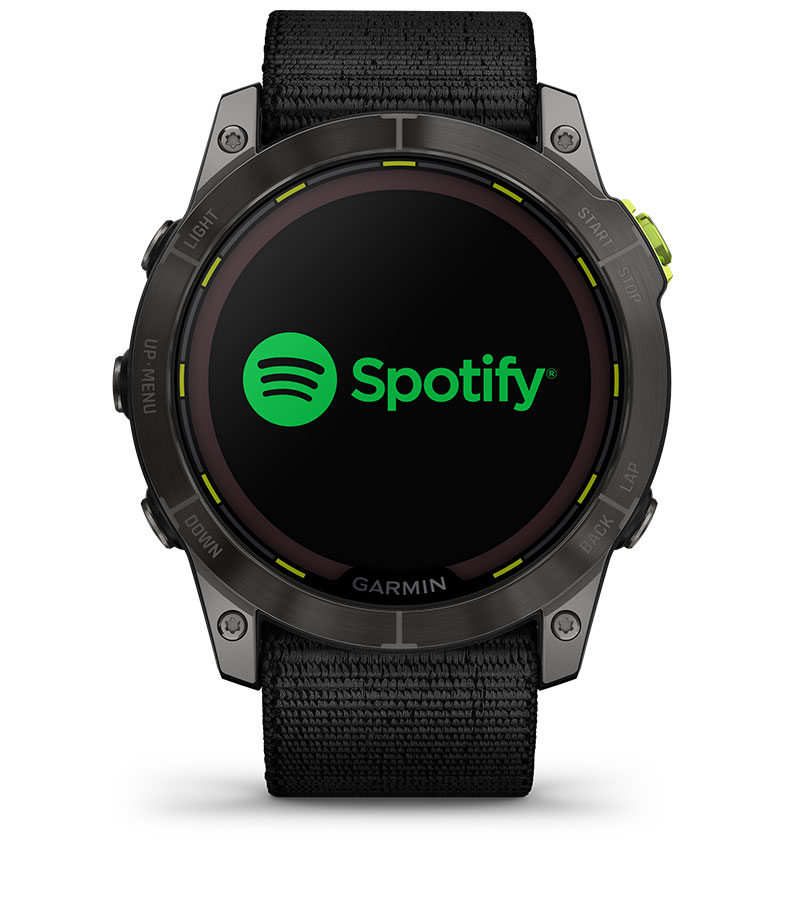 MUSIC APPS
Download songs plus playlists from your Spotify, Deezer or Amazon Music accounts (subscription may be required). Use wireless headphones (not included) for phone-free listening.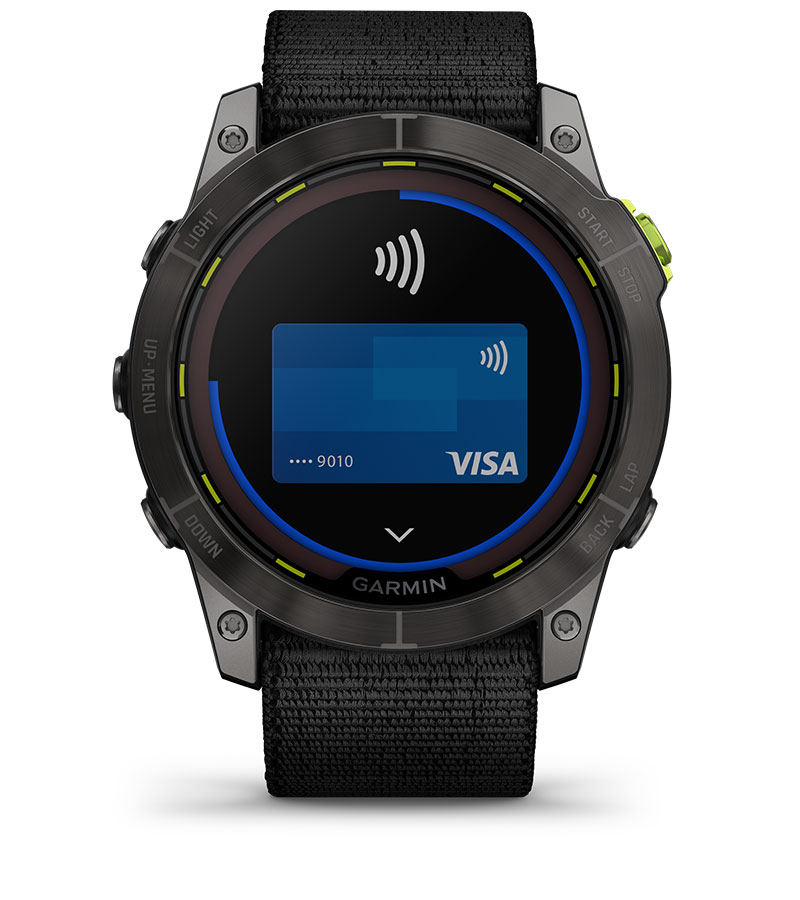 GARMIN PAY™ CONTACTLESS PAYMENTS
Breeze through checkout lines with Garmin Pay contactless payment solution through participating providers.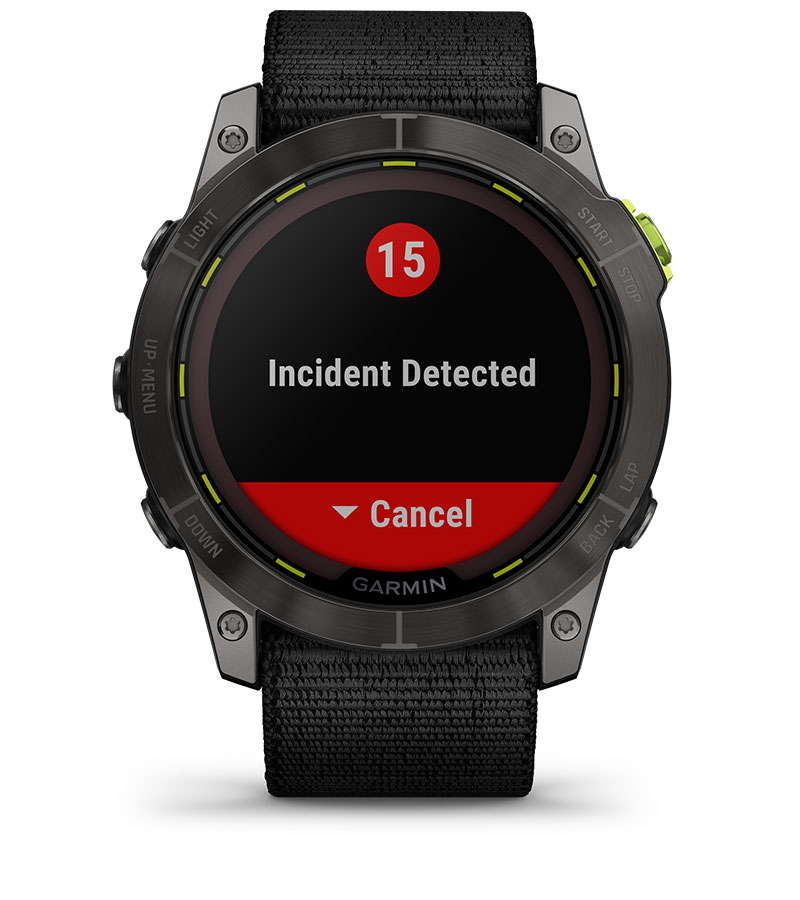 SAFETY AND TRACKING FEATURES
When your watch and phone are paired, a message with your location can be sent to your contacts manually or — during select outdoor activities — automatically with built-in incident detection6.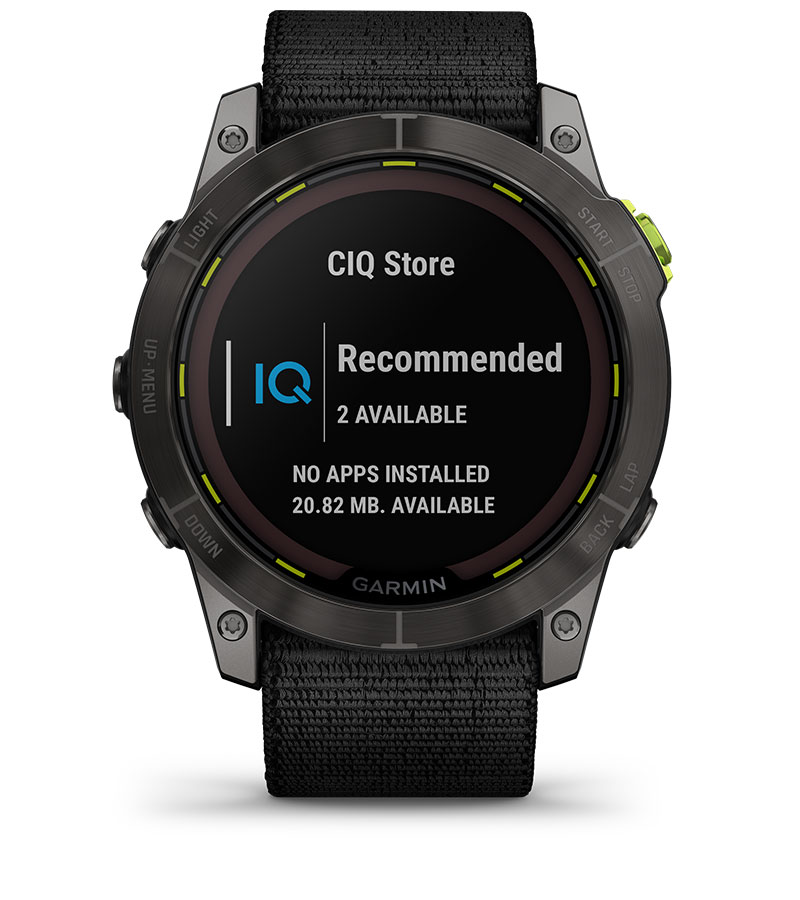 CONNECT IQ™ STORE
Download custom watch faces, add data fields, and get apps and widgets from the Connect IQ Store on your compatible smartphone.
QuickFit® accessory bands let you match your style with no tools required.
See your stats, and track your goals in the Garmin Connect™ app.
Customize your Garmin device using the Connect IQ™ Store.
1 Assumes continuous use for entire period in 50,000 lux conditions
2 Assumes all-day wear with 3 hours per day outside in 50,000 lux conditions
3 When paired with the Garmin Connect smart-device app and the Surfline smart-device app
5 
This is not a medical device and is not intended for use in the diagnosis or monitoring of any medical condition; see 
Garmin.com/ataccuracy
. Pulse Ox not available in all countries.
Wi-Fi is a registered trademark of the Wi-Fi Alliance. SPOTIFY and the Spotify logo are among the registered trademarks of Spotify AB. Amazon Music and all related logos are trademarks of Amazon.com, Inc. or its affiliates.